Iniesta reveals one issue he hasn't discussed with Valverde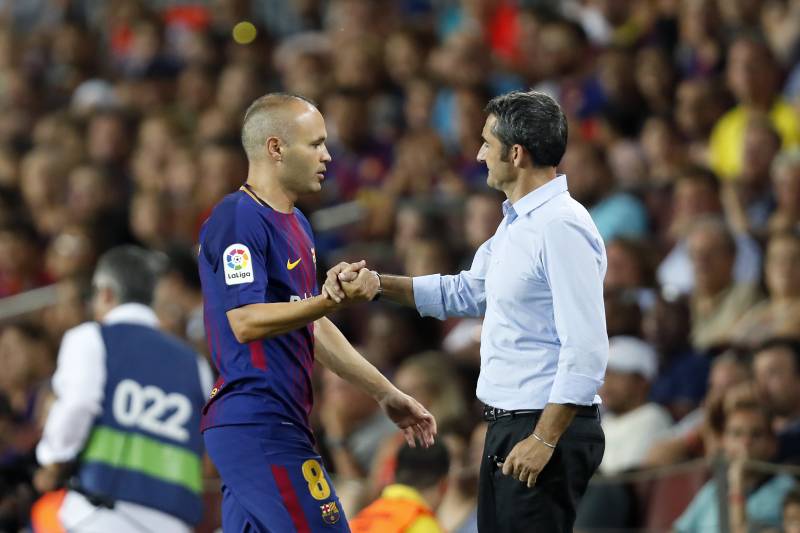 As captain of the Barcelona first team, Andres Iniesta is in constant communication with manager Ernesto Valverde.
Both men want the best for the team and Iniesta says they speak every day. But interestingly the Barcelona icon says they have never really talked about resting him for games.
At 33-years there has been talk about Iniesta's ability to perform game after game for Barcelona.
"I'll always be of the opinion that the more you play, the better you will be in the sense that you reach an optimum point and feel good, confident and comfortable on the field," he told Catalunya Radio via Marca.
"This year, I've had some setbacks, if I'm honest, and there have been tough times, but I continue to be positive about things.
Advert
"I talk to [Ernesto] Valverde on a daily basis, but we haven't discussed that kind of management [of my playing time].
"I don't think that being 33 years old means I can't play as many games.
"I'm aware that it isn't the same as being 28, but the important thing is that I feel good."
On his new lifetime contract, Iniesta added: "I understand that when you just hear the headline then it can draw a lot of attention, but it isn't quite like that,"
"The contract is a football one and I'm not tied to the club when I retire.
"That wouldn't make sense as other factors will determine what happens at a certain time.
"I thank the club for their support, but we can assess what will happen each year as we go on.
"At this point, I'm completely happy."