Filipe Luis: "I admire Messi. Ronaldo doesn't deserve Ballon d'Or, he didn't play anything"
Atletico Madrid defender Filipe Luis has sang the praises of Lionel Messi who he has faced on several occasions during clashes between Barcelona and Atletico.
Both players have had a bitter encounter in the past as Luis was sent off for a harsh tackle on Messi back in February 2016.
Speaking in an interview with Paneka, the full-back spoke on different issues including their chances in the Champions League, Neymar's PSG move and Paulinho joining Barcelona..
"While the sun shines there's hope, We are going are going to try and win it. Nothing can be worse than the pain we felt after Lisbon, we had a few weeks without being able to sleep".
Praising Messi he said: "I admire him. He's never had a go at me in any of the games I've played against him."
Advert
"I've never asked to swap shirts with him. I go out there to win, not to be able to say I played against so and so".
On Neymar he said: "He did the right thimg signing for PSG. He's a different player there. He's happy and his playing is loose".
Paulinho: "Paulinho's going to surprise a lot of people. If he doesn't fit in at Barça, he would at Atlético".
He also spoke on Cristiano Ronaldo who he said didn't deserve to win the Ballon d'Or award.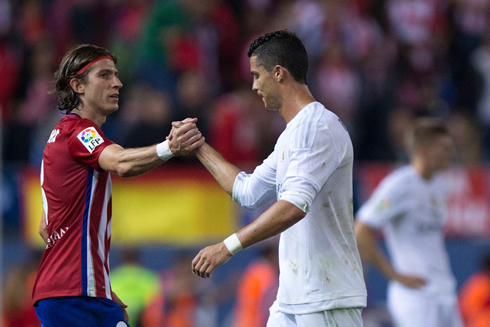 According to the Brazilian, Ronaldo didn't play anything throughout the season and only came alive in the last two months.
"Cristiano didn't play anything until the last two months of the season". he added